About Sabine Jell-Bahlsen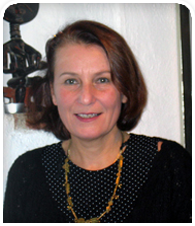 Sabine Jell-Bahlsen
Anthropologist
Enthnographic Film Maker
Writer & Editor
E-mail: SabineJB@aol.com

Sabine Jell-Bahlsen is an anthropologist and an ethnographic film maker. She holds an MA in ethnology from the Free University in Berlin, Germany, and a Ph. D. in anthropology from the Graduate Faculty of the New School for Social Research in New York (1980). Sabine has carried out extensive, in-depth field research in South Eastern Nigeria over 30 years. She is the author of The Water Goddess in Igbo Cosmology. Ogbuide of Oguta Lake (Africa World Press, 2008) and of several ethnographic films, including Mammy Water: In Search of the Water Spirits in Nigeria ( www.der.org 2009 (1991).
Sabine has taught at the Rhode Island School of Design, the Technical University of Papua New Guinea, and Ball State University. Her numerous published articles and reviews appear in the journals, Research in African Literatures, Dialectical Anthropology, the International Journal of African Historical Studies, African Studies Review, and African Profiles International Magazine, and in anthologies including Africa after 50 Years: Retrospection (in press); Marginalised Identity; An Engagement with Art, Literature, Language and Ethnicity (2011); Goddesses in World Cultures (2011); Against All Odds. The Igbo Experience in Nigeria (2011); Education, Culture and Development (2006); The Encyclopaedia of Religion and Nature (2005); African Spirituality (2000); Sisterhood, Feminisms and Power (1998); Emerging Perspectives on Flora Nwapa (1998); Queens, Queen Mothers, Priestesses and Power (1997); Principles of Visual Anthropology (1996) and Ethnographic Film Making (1988).
Sabine's book on the Igbo Water Goddess, Ogbuide is an honouree of the Elliott B. Skinner Book Award of the Association for Africanist Anthropology (2008), and she has received The Flora Nwapa Society Highest Award for outstanding contributions to the international community for book and film production (2011). She is the former Editor-in-Chief of the journal, Dialectical Anthropology (2003-2008), has served as Secretary on the Executive Board of the New York African Studies Association (1997), and is currently serving on the Advisory Board of the Igbo Studies Association (2011-2013). www.sabinejb.com; Sabinejb@aol.com.